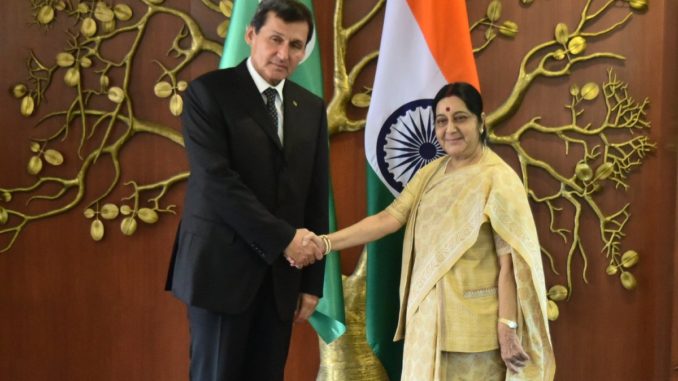 The Deputy Chairman of Cabinet of Ministers (DPM) & Foreign Minister of Turkmenistan Rashid Meredov led a high-level delegation comprising senior officials of the Government of Turkmenistan to New Delhi from August 13-15, 2017. The delegation participated in the 6th Session of the India-Turkmenistan Inter-Governmental Commission (IGC) on Trade, Economic, and Scientific & Technological Cooperation held on August 14, 2017. Minister of External Affairs and Co-chair of the Indian delegation for the IGC, hosted DPM Meredov who co-chaired the delegation on the Turkmen side.
The IGC discussions were held in a friendly and cordial atmosphere. EAM Sushma Swaraj and DPM Meredov comprehensively reviewed the entire gamut of bilateral relations and took stock of the progress achieved in the areas of energy, trade & economic cooperation, transport & connectivity, security cooperation, civil aviation, information technology, science & technology, cultural and educational matters.
The Commission expressed satisfaction with the current state of cooperation between the two countries and agreed to work towards fulfillment of the commitments reached during the meeting between the President of Turkmenistan and the Prime Minister during the latter's visit to Ashgabat on 11-12 July 2015.
A Protocol of the 6th meeting of the IGC was signed by the two co-chairs.
During the visit, DPM Meredov also called on Vice President of India and met with Minister of Finance, Defence and Corporate Affairs. Minister of Road Transport, Highways and Shipping and Minister of State (I/C) for Petroleum & Natural Gas.