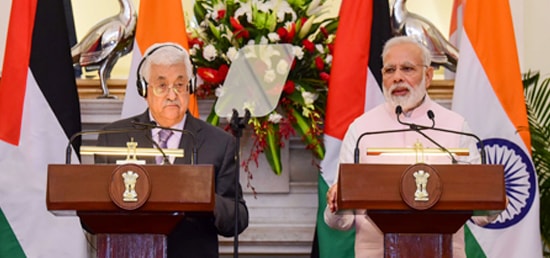 Palestine President, Mahmoud Abbas, is on a four days state visit to India during 14-17 May 2017. It is the fifth visit and the third State Visit to India by President Abbas. During the visit, President Abbas will visit C-DAC in Noida on May 15 to forge cooperation between Palestine – India Techno Park being built by India in Palestine and Indian IT industry.
In a press statement, Indian Prime Minister affirm the position that India hope to see the realization of a sovereign, independent, united and viable Palestine, co-existing peacefully with Israel. India hopes for the early resumption of talks between Palestinian and Israeli sides to move towards finding a comprehensive resolution.
At the bilateral level, Prime Minister Modi assure that India is committed to be a useful development partner of Palestine and will continue to support the development and capacity-building efforts of Palestine. Cooperation would be mainly emphasized in the areas of information technology, youth, and skills development in the assistance provided by India. India is undertaking project assistance for a flagship Techno-park project in Ramallah. Once completed, it will serve as an IT hub in Palestine offering a one-stop solution for all IT-related training and services.