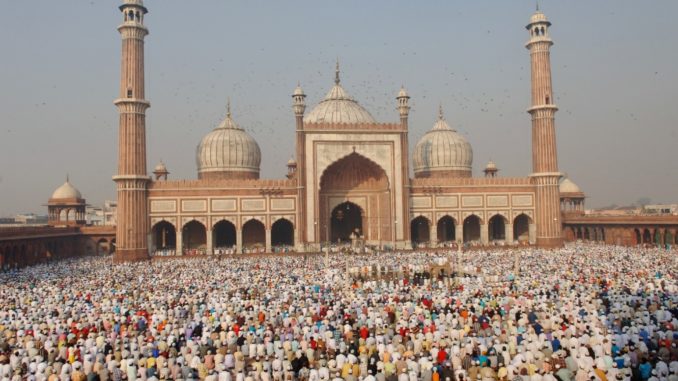 In the era of market depression, India still stands as major demand market due to its burgeoning middle income group and as the major attracting destination of foreign investment for its infrastructure and industrial projects. High purchasing power parity and large unexplored sectors are making it lucrative for all brands across the world. While the world advanced economies are pegged at 2-5% economic growth, India consistently maintains the pace of economic acceleration at 7-10%. Benefit of economic development reflects in living standard and lifestyles of Indian consumers. Indian Muslim, in spite of marginalization, have not been excluded from the economic benefit and they are now more economically empowered in compare to previous years. Increasing per capita income has given more amount in their basket to spend for fulfillment of their food and other necessities.
Muslim has the substantial share in Indian population with minority status. In terms of Muslim population size, India is the third largest destination in the world and first country in Non OIC (Organization of Islamic Cooperation) nations. Indian Muslim constitutes the 14% of total population of India and 11% of total global Muslim community. Such great size with comparative young ratio indicates about a huge market for Muslim compliance products and services that are still largely untapped in India. Since food is compulsive consumption and has the large ambiguities about Halal and Haram, its potentialities to expand with halal endorsed products are undeniable for catering of large Muslim consumer. Considering its importance at domestic as well as overseas markets, halal food is being studied here in reference of Indian Muslim consumer and OIC markets.
Domestic Halal market
Large size of food market is still unorganised in India. Most of people prefer to purchase the food products from the neighbouring retail outlets due to uncertainty in quality of packaged and processed foods. Packaged food demand is mainly concentrated in metropolitan and urban areas. Muslim have the dual reasons for selecting the neighbouring outlet, first is quality and second is Halal authenticity.
Food safety and standards authority of India (FSSAI) has made the mandatory to disclose the vegetarian and non-vegetarian ingredients in packaged foods by a clear visible logo but such official declaration is not required for Halal or non Halal classification. Muslim can also not believe all vegetarian products as Halal in India due to unspecified processing and in fear of mixing of some other Najis elements. Therefore, an exclusive and most loyal customer's demand of Halal products approximately 10% of total consumption exists in Indian market. Major food product-wise estimated Muslim demand is shown in given table:
Estimated Consumption of Food Products by Muslim in India
 (2011-12)
Broad Products
Value in Rs. Million
Cereals
342968
Milk & Milk Products
216409
Egg, Fish & Meat
181395
Vegetables
128998
Edible Oil
108122
Served Processed Food
85055
Pulses & Products
83877
Fruits (Fresh & Dry)
63435
Spices
62008
Sugar & Salt
50929
Beverages etc.
49441
Packaged Processed Food
43116
Total Food Expenditure (Excluding of pan, tobacco and intoxicants)
1415753
Estimated Total Expenditure of Muslim
2871066
Source: Estimates are based on survey reports released by MOSPI, GoI
Overseas markets:
India has large overseas market for exporting of food products in OIC countries. Most of Arab countries are depend upon India for fulfilling their food requirements, mainly for rice, buffalo's meat, coffee, cereals, spices and fresh vegetables and fruits. According to 2014-2015 data release by Indian ministry of commerce, India's share of total export in OIC market is 310338$ million while only major food products share is 12629$ million. Half (44.32%) of India's export of food product are imported by OIC countries. A cross comparison about the India's total export and export of food products for top ten OIC countries is shown at given table:
Top 10 Countries from OIC having the Highest Share of India's Export of Food Products (2014-15)
Rank in Food products in OIC
Rank in All Products in the World
Country
Export in US $ Millions
Share of food products
Food
Total
1
5
Saudi Arabia
1927
11163
17.26
2
2
UAE
1537
33028
4.65
3
23
Iran
1418
4175
33.97
4
10
Bangladesh
1138
6451
17.65
5
14
Malaysia
908
5817
15.62
6
30
Egypt
528
3026
17.44
7
26
Indonesia
417
4043
10.32
8
17
Turkey
285
5359
5.31
9
35
Oman
258
2379
10.83
10
33
Nigeria
198
2681
7.37
Top 10
8612
78123
11.02
OIC Total
12629
95198
13.27
All Export
28493
310338
9.18
Source: Ministry of Commerce, GoI
Indian food export can also be further expanded manifold to OIC countries by proper and transparent adherence in Halal certification and with some official provision to cross check the authenticity of Halal methods. Due to absence of such guidelines, sometime the buffalo meat exported by India is falsely blamed for not fulfilling the Halal process properly.
Aforementioned discussion clearly indicates about the potential and lucrative business opportunities in Halal food in domestic as well as in overseas market. Multi-prolonged strategies are required for establishing the new products especially at domestic market in packaging products and for enhancing the existing unorganised markets. These strategies are required a better planning from all stakeholder i.e. Muslim consumer, Muslim producers, mainstream producers, Halal certifying agencies, community organizations and the government authorities.